Bounce House Software Demo
Manage your growing business efficiently and effectively with the help of our all-inclusive event rental software. Everything you need to communicate with customers, update your product inventory, and increase your business is right at your fingertips with our convenient and user-friendly app. Whether you're a reputable staple in your community and want to reach new potential clientele or are a recently started party rental business owner seeking guidance and support with building inventory, we're here to help.
#1 Bounce House Rental Software That Saves You Time and Money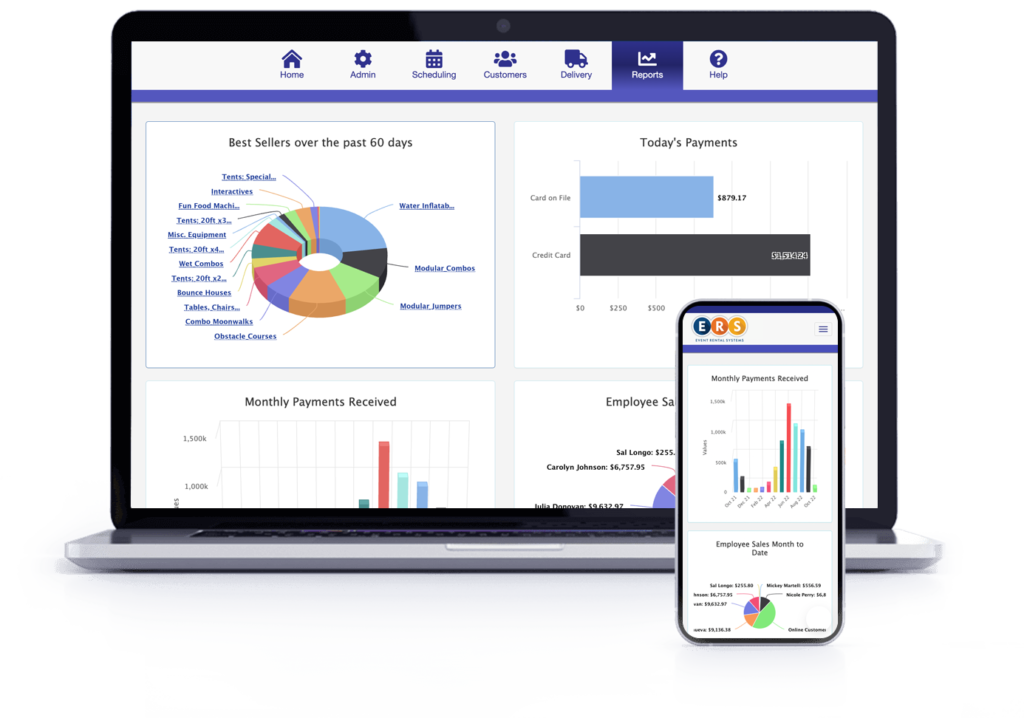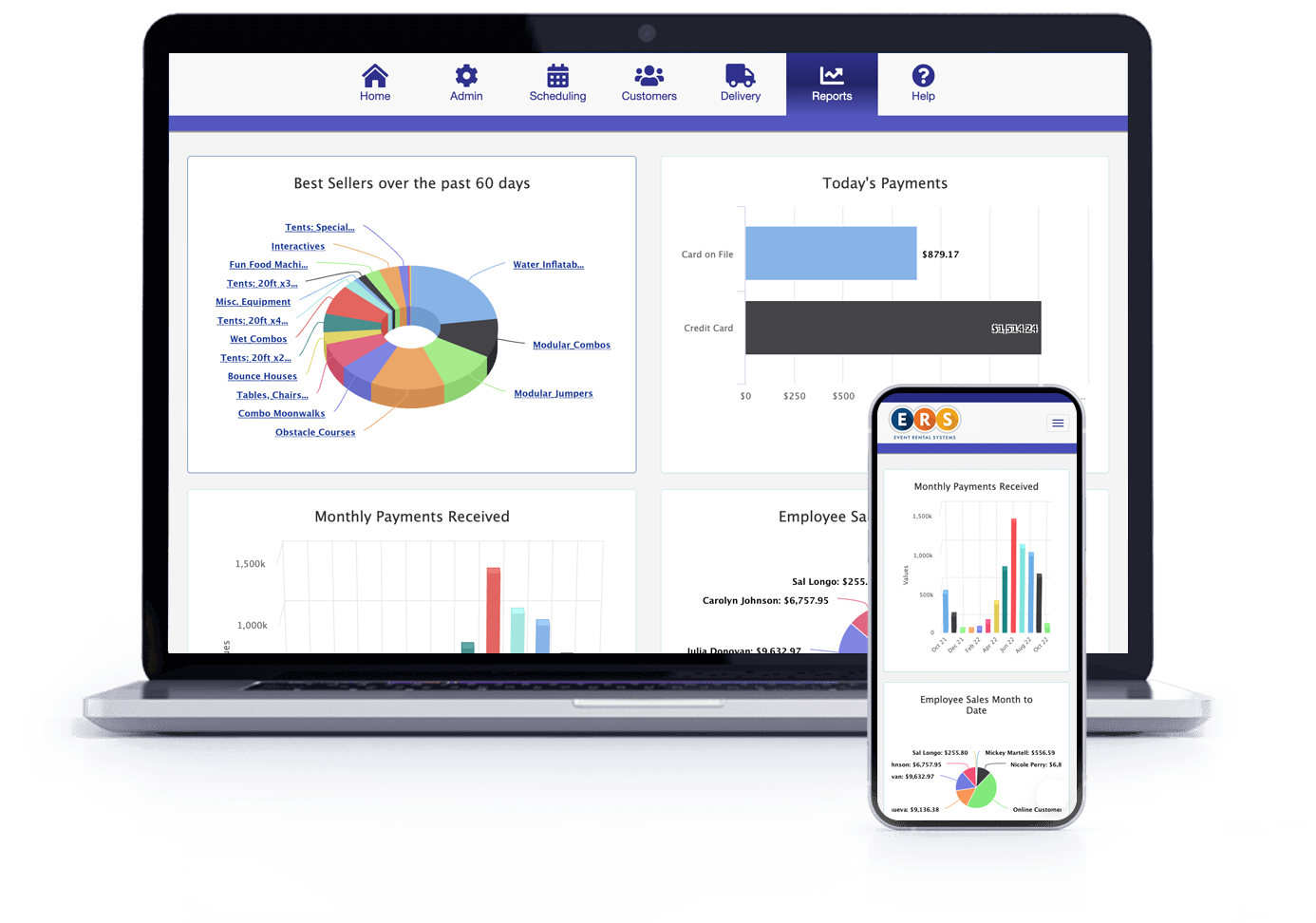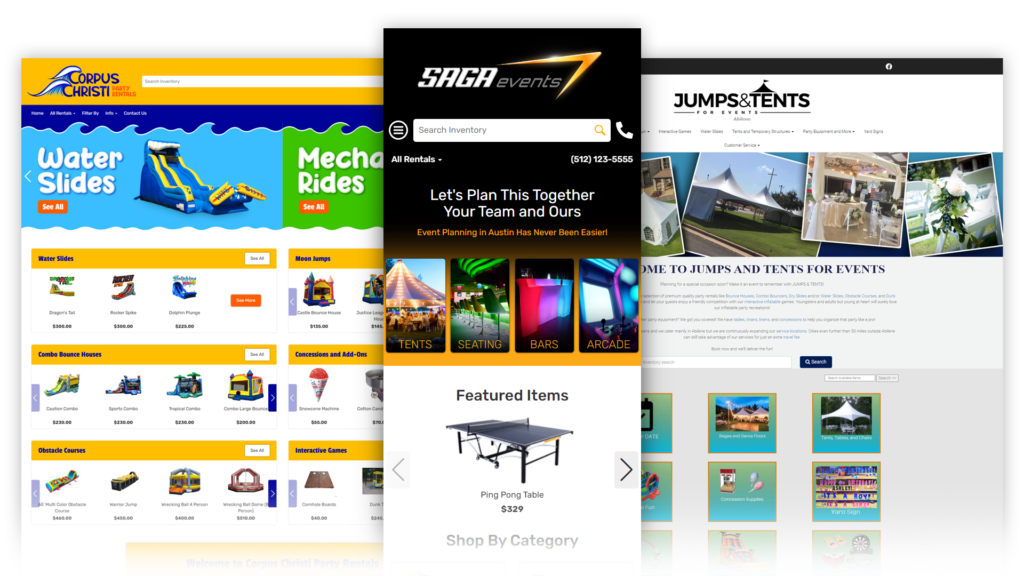 All-Encompassing Bounce House Rental Website Software
The Bounce House Online Rental Software Party Rental Businesses Trust Most
Use the most trusted bounce house online rental software to cater to your existing clientele and appeal to potential customers simultaneously. Along with managing your inventory, scheduling deliveries, processing credit cards, and keeping track of your employees, our software provides a succinct and engaging avenue for communicating with your party rental customers, all from one app. Over the years, ERS has built a positive reputation by providing outstanding customer support paired with a trailblazing platform, backed by hundreds of party rental businesses. Whether you're just starting out in the industry and need to build your inventory or are a party planning expert searching for the best bounce house online rental software to tailor to your specific needs, we're here to offer guidance, help you learn our system, and set you on the path to success in one fell swoop. We're thrilled to be a crucial part of the overall growth of our customers' businesses and care about the outcome of their marketing and sales efforts. We're dedicated to revolutionizing the party rental industry and helping our customers succeed by offering a range of invaluable services and unbeatable bounce house online rental software.
Take a look at what some of our happy customers have to say about their experience using our bounce house software and schedule a demo today!
"Exceptional staff, responsive customer service and great software package for our business needs. You can not go wrong with Event Rental Systems."
-Patricia P.
"The support staff is extremely dedicated to their clients. I believe the software has helped me grow and maintain my business tremendously."
Christopher K.
"The ease of use and the number of options for personalizing the system to meet my needs is very important to me. In addition the support provided by the ERS staff is exceptional."
-David K.
The Best Inflatables Rental Software for Bounce House Businesses
With the help of our cloud-based inflatables rental software, your customers can browse available inventory, learn about your company, place online orders, and connect with your team with a few easy clicks. From intelligent add-on sales and customer surveys to reminders to book for next year's birthday, our system thinks of it all.

Using reports, automated marketing, scheduling and routing tools, and other premium features, our party rental software enables you to manage your business more successfully and turn it into a money-making machine with a few intuitive clicks. The software can be used from any location with internet access, including your smartphone, tablet, or laptop. Get ready to receive orders while you sleep and manage them from the comfort of your couch or while out making a bounce house delivery! It's never been more convenient or manageable to navigate your growing business than with the help of the ERS inflatable rental management software.

Whatever your specific needs are as a business owner, we're confident our state-of-the-art inflatables rental software will make a noticeably positive impact on your operations by helping you manage customers, address potential pitfalls, streamline scheduling, track your employees, and scale your customer base from one user-friendly system.
Inflatable Rental Software and Dynamic Websites Combined to Wow Your Customers