Bounce House & Event Rental SEO Company
The party and event rental industry in the United State has a market size of $5 billion and is expected to grow revenue by 15.1% in 2021 according to the recent report from IBISWorld. The industry revenue is expected to recover strongly as the Covid-19 restrictions are eased, enabling parties and events to be operated at full capacity. Also, personal disposable income is expected to rise in 2021, which will expand consumers' party budget and encourage them to host and spend more money on social events such as birthday parties that require party rental equipment. Why am I telling you this and what does this mean for your business?
As a bounce house and event rental provider, this is the best time to position your business as one of the major players in the party and event rental industry. To achieve this, you have to make sure your company is found at the top of the internet search as more party rental consumers tend to search online for party rental companies when they have a party or looking to rent party equipment such as bounce house, inflatables, laser tags, e.t.c.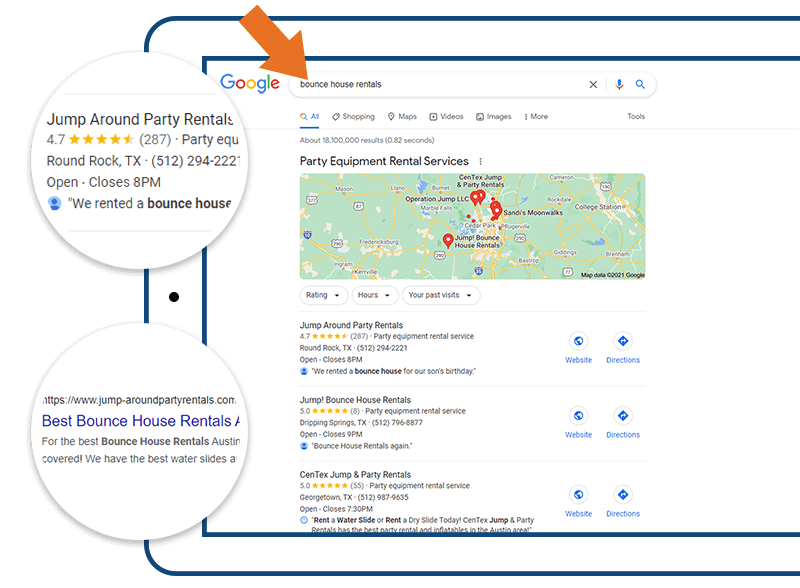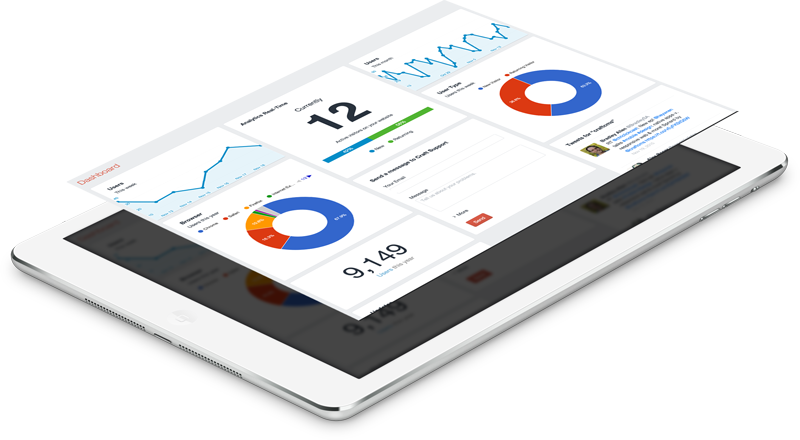 How SEO Can Help Your Party & Event Rental Business
Like many party and event rental business owners, you might have great products to offer and the best service that makes any party insanely fun but if no one knows about it, there's no point. SEO which stands for "search engine optimization" is a process of optimizing your website so that search engines like Google can easily crawl and understand your site and place it higher on the search engine result pages (SERPs) when relevant searches are performed.
Party and event rental search engine optimization will help your site to show up on the internet when potential customers make industry-related searches using keywords such as bounce house, inflatables, jumpers, laser tag, e.t.c. This is an effective way to drive targeted traffic to your website and generate quality leads for your business.
There are lots of techniques and strategies that go into optimizing a website and getting it to show up on the SERPs and Event Rental System (ERS) can help you to apply bounce house and event rental SEO techniques to your company website.
Party and Event Rental SEO Services
Traffic is the lifeblood of any business and employing good SEO techniques will help you get more traffic to your company website and generate more customers for your business. If you're interested in party rental SEO, bounce house SEO, and event rental SEO, we have got you covered. Event Rental System is a leading provider of party rental software for bounce house and event rental companies, we can also help to promote your party and event rental services and establish brand authority with the help of our growth focussed party rental services search engine optimization solutions.
Party Rental SEO
If you run a party rental business and want to increase traffic to your website you need to employ some good search engine optimization strategies to help potential customers find your business online. Party rental SEO is crucial if you want your business to survive and thrive in the party rental industry.
Here's what our party rental SEO experts can do for you:
Rank high on search results and attract more customers.

Improve and maintain your website's overall performance to generate new leads for your business.

Accelerate business growth with effective party rental optimization strategies.

Implement revenue-generating SEO services for your party rental business.
Bounce House SEO
Event Rental SEO
Why Choose ERS as Your Bounce House and Event Rental SEO Company?
In this day and age, the internet is the place to be when it comes to attracting new customers to your business, but without proper guidance from an SEO expert in the bounce house and event rental space your website could end up buried in the wilds of the World Wide Web and won't show up on search engines like Google.
Event rental system provides you with not just a mobile-friendly website that offers real-time online ordering but can help make sure that your company is found at the top of an internet search when potential customers are looking. Our SEO professionals have the right skills and knowledge to improve your site's search engine rankings and get the attention it deserves on the internet. Working with ERS will save you time and money as our SEO experts specialize in the ranking of bounce house and event rental websites which means you don't have to waste any time trying to explain your business to us. 
If you're interested in increasing your website traffic and positioning your business as one of the major party and event rental businesses in the industry, contact us today for more information.